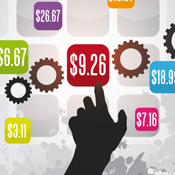 WHAT IS "PICK THE PRICE"?
---
Pick The Price is a simple game that challenges you to predict the ending prices of Pricebenders auctions.
Pick the exact price–or be the closest if there is no exact pick–and you'll win a share of our daily PTP "Zackpot" and a nifty badge for your TripleClicks Homepage.
ZACKPOT PAYOUT: Each day's Zackpot will be be a minimum of 500 TCredits. Each of today's winners with exact picks will receive five shares of the Zackpot. Each of today's winners with closest picks will receive one share of the Zackpot.
You can play Pick The Price for just one TCredit per auction.  No purchase necessary to win. Plus, each entry earns you 5 Member Rewards Points!  Hundreds of chances to win weekly and there are no win limits.
TIPS
---
1. A great way to get an idea of what amount to predict is to click the "Price History" link located on each auction panel.  This will present you with a listing of recent auctions for this item (if any) and the winning price of each.
2. The auction type (e.g., Winner Bids Free, Double MRP, etc.) can impact the price, so factor this in.  The auction type is located at the bottom of each auction panel.
3. Want to know what you predicted for a previous auction?  All of your picks (as of 5/1/14) are listed with each auction on the Pricebenders Latest Winners page.
4. So that you never have to miss a Pick The Price contest, you can use the "remind me" link located immediately above the Official Rules section.  Just check the box, choose when you want to receive the reminder, and we'll send you a quickie email to let you know it's time to enter more picks.
FREQUENTLY ASKED QUESTIONS
---
Q: When are winners revealed?
A: You can trot over to the Pricebenders Latest Winners page as soon as an auction ends to see who was the Pick The Price winner.
Q: Where can I enter?
A: You can learn more about Pick The Price and enter HERE.